TV Jones Pickups and Guitars Home
Love your STRAT but not the tone? Try one of these killer combos!
A Filter'Tron Flavor for Every Guitar
- Check out what our Customers are Saying -
T-90 neck in the No Ears Mount - T-Series
The T-90 is a badass tone monster! They are sparkling clean to just plain nasty! I love them!
The new design is gorgeous! I love the nickel around the black. It's straight up sexy!
As always thanks to Tom and the crew for making such great products!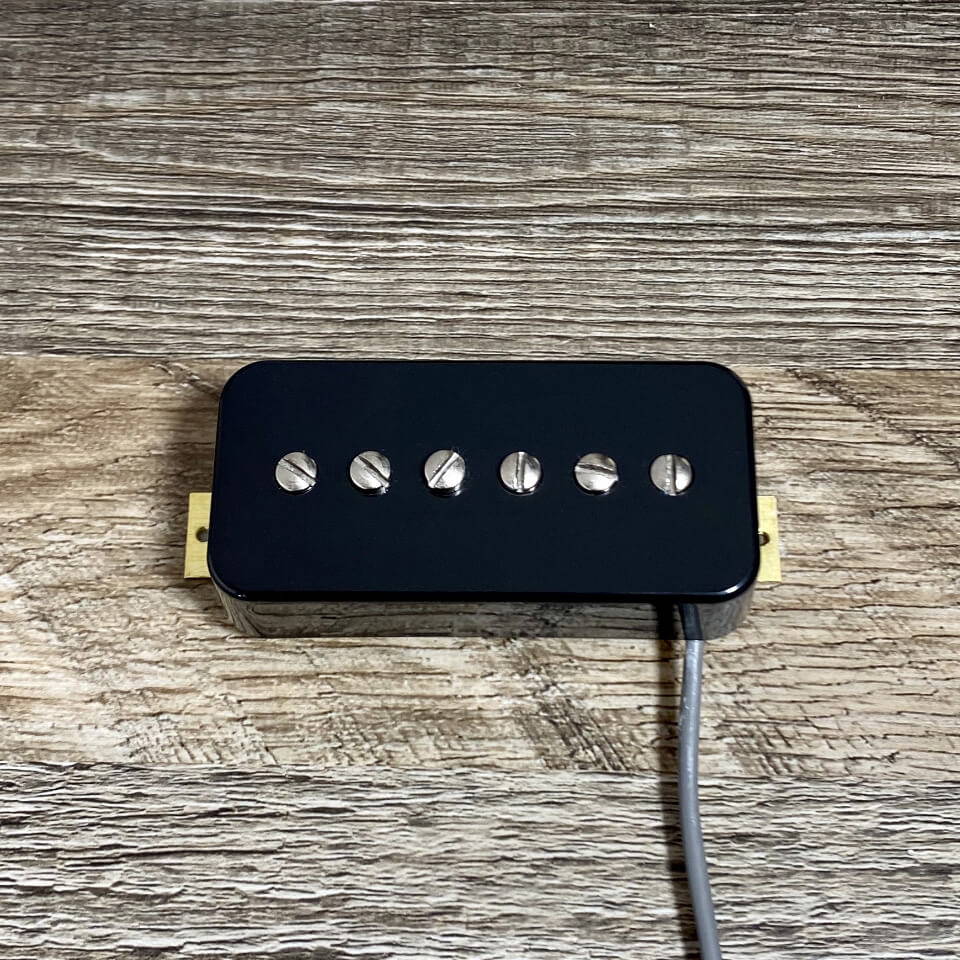 T-90 neck in the English Mount
I used to own a Gibson Les Paul special that had P90's but I traded it like an idiot and missed having P90s in my life. I decided to put one of these in the neck position of my electromatic and it honestly blew me away. This thing sounds way better than I ever remember my Gibson sounding.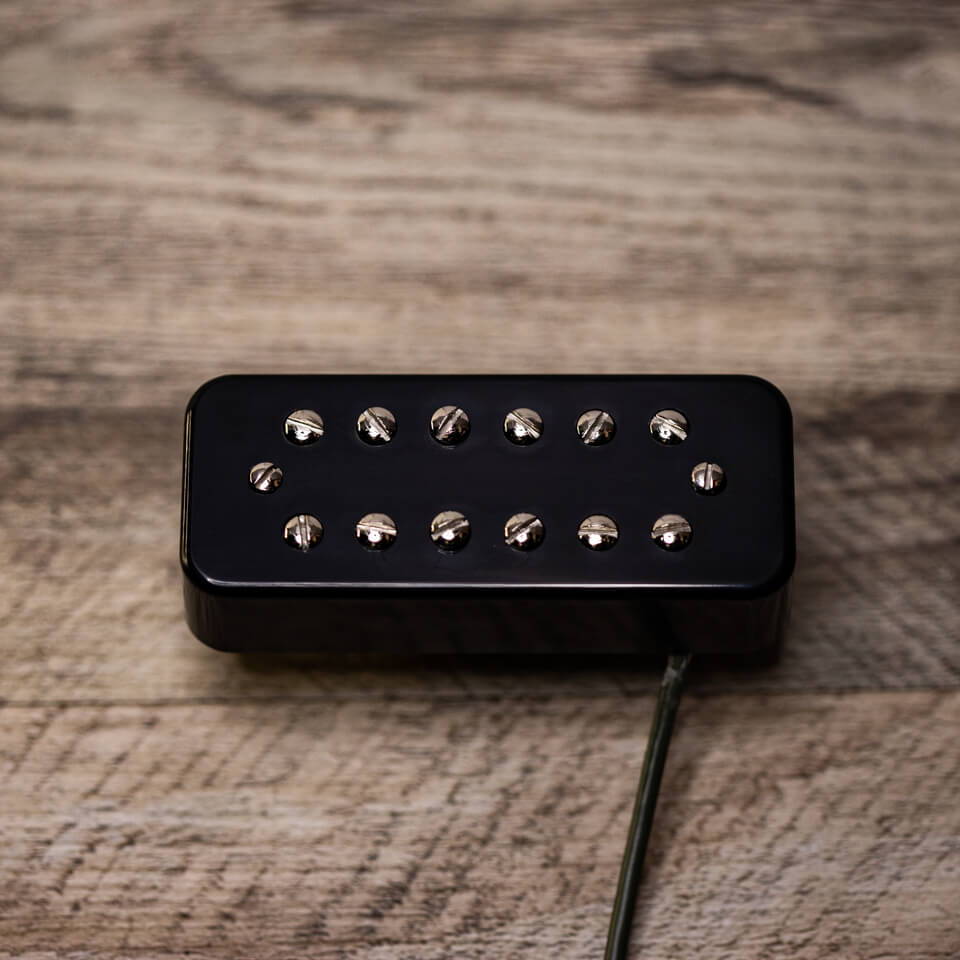 TV Classic in Soapbar Mount
I have a Gibson Firebird Special with P90's and like all modern Gibson's I have played lately the pickups were horrible. Noisy, Harsh, Distorted in the wrong way and with little to no dynamics.
I installed the TV Jones Classics (P90 soap bars) in the the bridge and The neck (as well as a vibramate and B5 Bigsby) and viola!! Smooth sustain but not too compressed, clear but not icy pick treble, dynamic bass response without being boomy. Perfection!
The next time I decide to upgrade another guitar I will be buying a TV Jones brand pickup.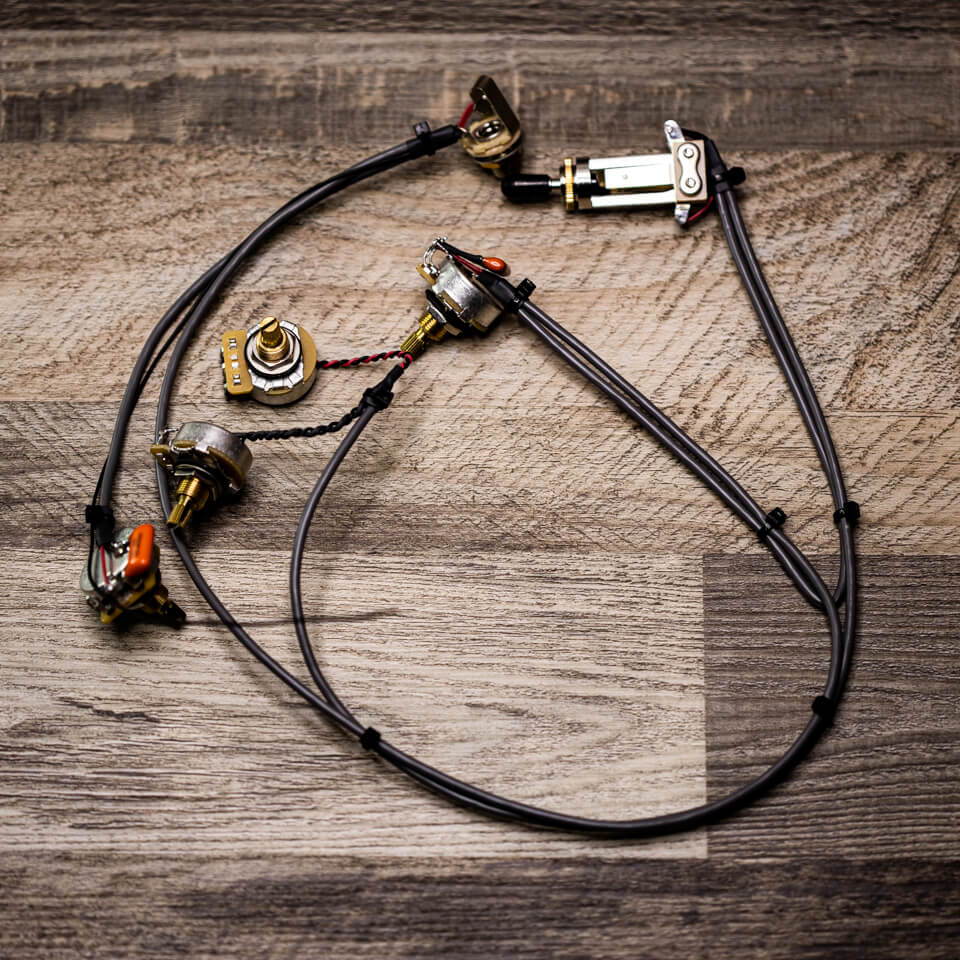 'm really happy with my project Electromatic. A Magna'tron in the neck, Classic Plus in the bridge. The final piece, the TV Jones harness. Real easy install as the soldering was done outside of the guitar and installed quickly with the installation set. I only had to enlarge the pot holes with a hardware store reamer and splice the ground wire to the string ground and the job was complete. Incredible customer service in addition to resources that help with the install as well. In comparison to the stock wiring mess, the noise disappeared and clarity and tone noticeable.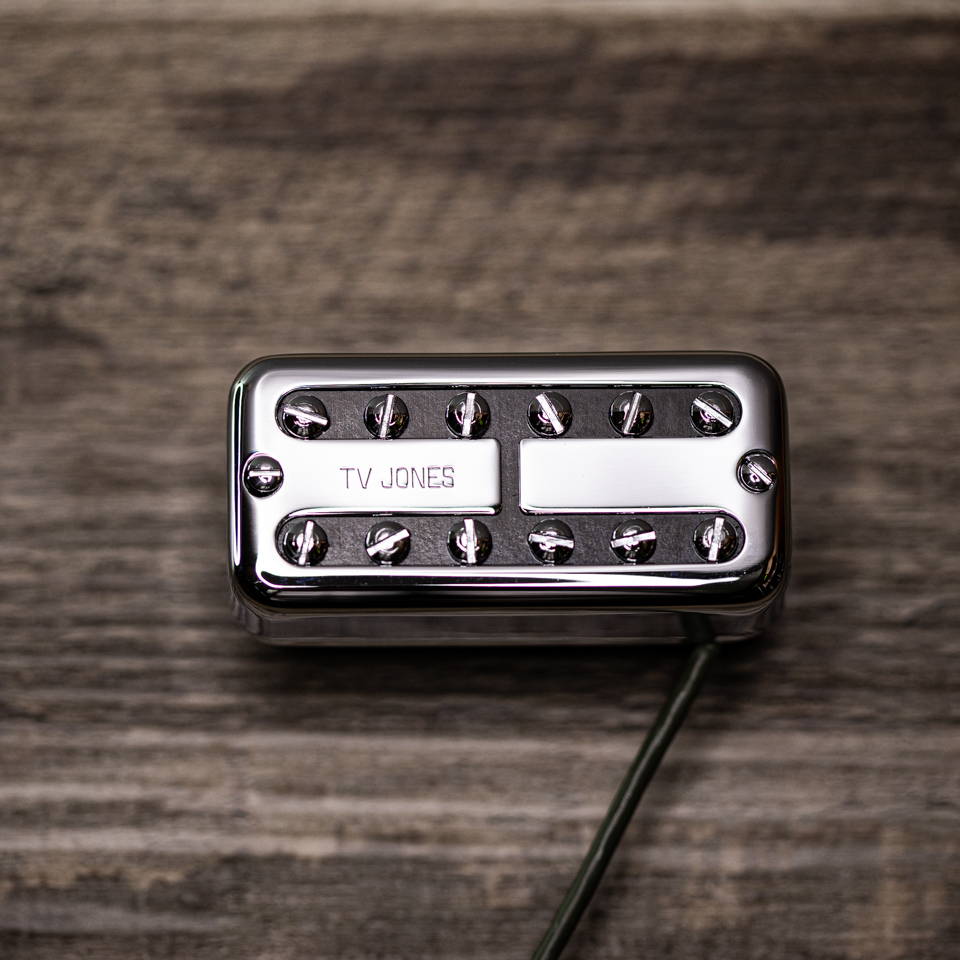 TV Classic in Universal Mount
One of my favorite pickups. I have had about five guitars over the last twenty years in which I have put TV Jones filtertron style pickups. The classic plus is the perfect match to a classic in the neck position. These pickups have an indefinable "three dimensional" quality that sets them above all other tron style pickups and really puts them in their own separate category. The universal mount system is clever and gives alot of flexibility if you want to move the pickups to another guitar - goes from traditional Gretsch filtertron wood mount to suspended gretsch mount to full size HB route mount with the optional TV HB pickup ring. Buying this blemished model saved me a 1/3 off standard price and basically looks like it would look after a few months of play anyway, so to me a terrific deal. Thanks for a great pickup which has been one of my personal favorites for the past two decades.
- Spectra Sonic Standard -
"Holy harmonic tone storm Batman!"
I blew my amp tubes (Friedman Runt 50) the day before it arrived, so had to wait until last night to fully run it through my rig and when I did I was blown away. It feels effortless to play, and almost unputdownable. Every time I stopped and thought I'd take a break, I thought of something else to play to see how that track would sound The tone from the pickups is straight up magic. As a starting point I put in in middle position, with T&V fully open. The clean channel on the amp sounded thick and fat. Then I backed off the guitar volume and I had so much versatility. It can ride 'edge of breakup' really well, and then when I lay into it it crunches exactly as want it to. Muting and playing softly get the sound really clean and almost piano like, bell tones. The pickups are really responsive and give me so much room to maneuver. The band's other guitar player and me played it for about 2 hours last night, and neither of us wanted to stop. I love its simplicity, and all the control I have through it.
The guitar itself is exactly what I wanted, a cool looking mat-black guitar with a good body style, great setup, intonation, and feel. Playing it is a joy. Really nice job on the guitar and the pickups. Just an all round outstanding instrument.
Then we plugged it into the overdrive channel of the Runt 50. :) :) WOW I could hear a lot of bite, a lot of depth, and on the neck pickup wide open, I heard all sorts of Jimmy Page tones. I already know this guitar will feature front and center on the new stuff that we are writing now, and I cant wait to see what it shows me. I've wanted a guitar with P-90s for a long time, and now I have this with the T-90s in it, I know I made the right choice.
---
This guitar is on par with guitars 3x the price. The customization and support from tv is amazing. Don't think about it anymore just buy it, perfect for hard rock guys like me.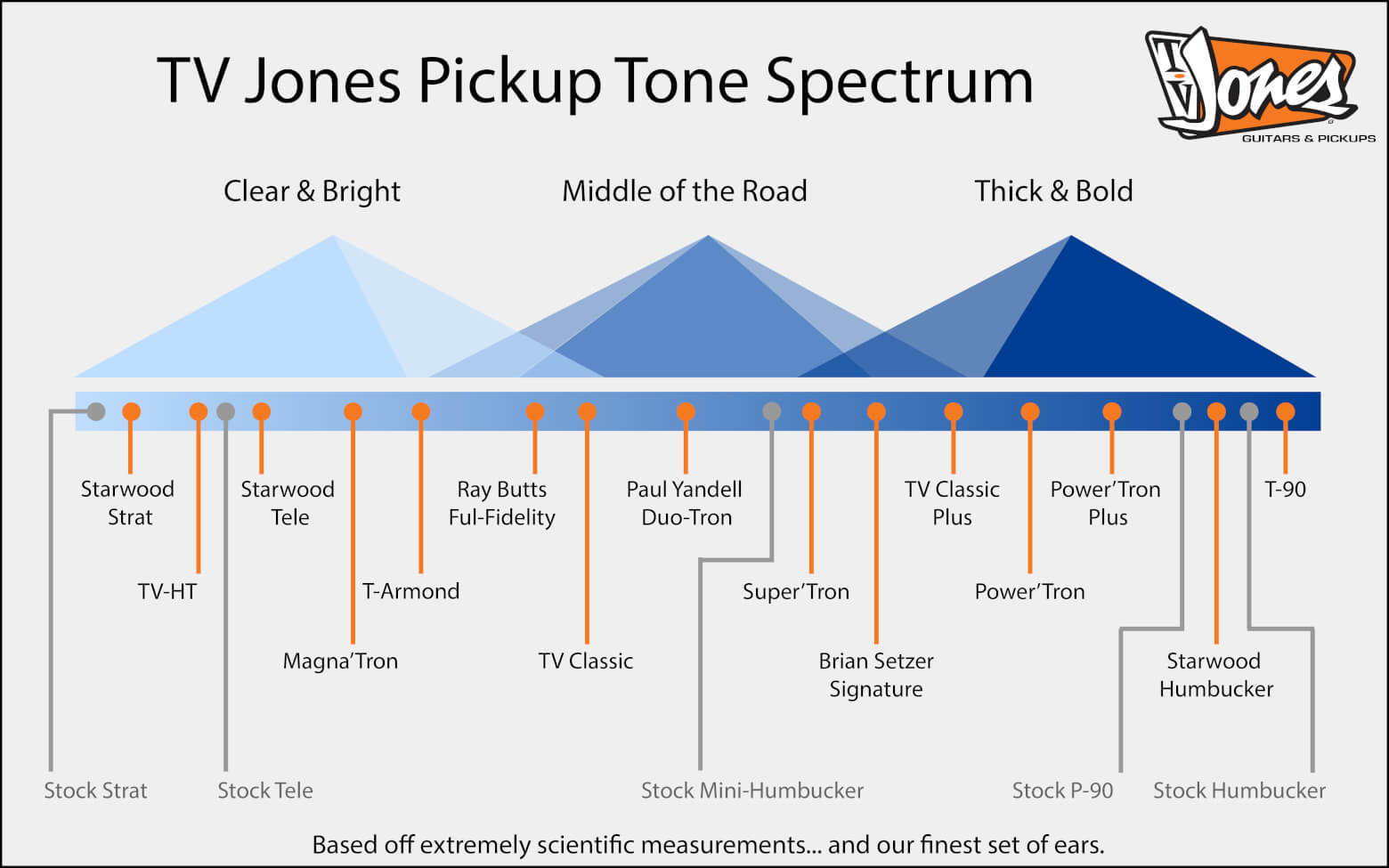 Gretsch 5120 Modification
One of the most popular Gretsch modifications that we get daily phone calls about is upgrading the G5120 Electromatic from the stock Gretsch humbuckers to TV Jones TV Classic Filter'tron™ pickups. We'll answer a lot of questions here.
---
The Story of TV Jones....
---